I can't believe Reagan's first birthday is at the end of this month!
I think most Moms both dread and love first birthdays. It's a signal that your baby is growing up which is so bittersweet, but it's also such a fun milestone to celebrate with family and friends! One thing that's always tough is knowing what to get for a 1-year-old. Honestly, these days, most kids already have a lot of toys by the time they turn 1, and it can be tricky to figure out a gift that will be useful vs. just another toy that will lead to clutter. Maybe I am just hyper-aware of this right now since I feel like we are drowning in toys and we are going through a massive purge. There are definitely toys that are extremely useful though!
Here are 10 first birthday gift ideas that are sure to please both parents and tots! (If you don't want to read about each of them you can skip to the end to just see all 10 gift ideas.)
Lovevery Subscription or Block Set
Lovevery is such a cool company dedicated to early learning and fostering development in babies and toddlers. They offer a few really cool options for learning-based play and an age-based subscription box.
The block set comes with high-quality wood pieces and a guide with 20+ ideas for stage-based learning activities. It comes with 70 bright pieces and a drawstring bag to store everything in. The box that it comes in is wood and it converts into a pull-along car once you unpack it! It's such a cool and versatile learning toy that will grow with your child after their first birthday.
The other great offering from Lovevery is their Play Kits. The Play Kits are a subscription box with items based on the stage of development your little one is in. The kits start at 0-12 weeks and go up through 24 months. You can subscribe to get a new kit every 3 months, or gift just a single play kit. You can check out their website to see what is included in each play kit. The items are all amazing! They are based on Montessori-inspired methods and made from sustainably sourced wood or 100% cotton.
You can get $10 off your first purchase through my link, and get free standard shipping.
Soft Obstacles
I wasn't really sure how to describe this gift option, the best I could come up with was soft blocks or soft obstacles. Think about the kind of soft, easily cleanable obstacles you would see in a preschool classroom. These are such a great first birthday gift that will provide fun for years to come. The photo above is of the one we have, a Nugget Comfort. It is such a cool piece of furniture. It's technically a couch, it comes with 2 large triangle pillows, 1 softer base cushion, and 1 thicker sturdy base cushion. The Nugget is great as a couch in a play room, a stage for your ballerina, a boat for your pirate, and so much more. The pieces can be moved around and used to build epic forts. Seriously, it's been so fun to have at home.
The other option here would be something like this climb and crawl foam set from Amazon. These are what I was thinking of when I mentioned the preschool/daycare toys above. Again, this is super useful for anyone who has a little tumbler! These are great to help teach gross motor skills, and as your baby gets older they will be the perfect item to help them practice their gymnastics skills.
Activity Table
We had a small version of this activity center when P was a baby. It was a mini ball maze from Melissa & Doug. Reagan got the one above for Christmas from my parents and she loves it! Peyton loves it too! There are a lot of different activity tables out there, we like this one because it provides a solid base for a new walker. It also has some great activities on it to keep their interest. I can even use it with Peyton to work on letters and sight words.
Stylish Stacking Toys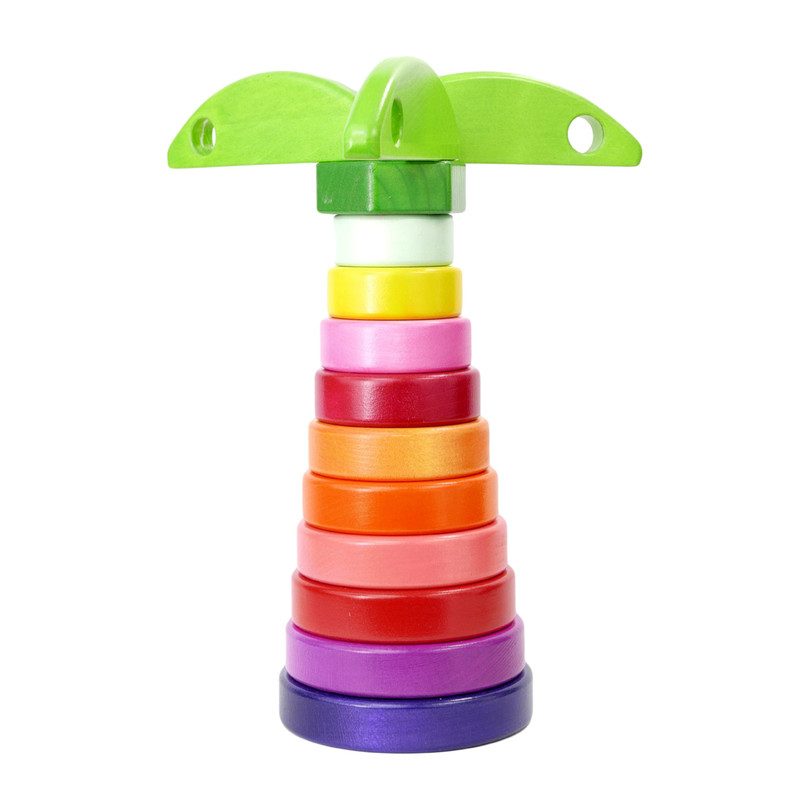 Another great tool from the Montessori method – stacking toys! These are a great idea for a first birthday gift. There are so many diverse options around now that you can pick something that can also mix in with your childs room decor or theme, or you can pick your favorite colors for the stacker. I love the palm tree above because I love palm trees, but another popular option currently are these rainbow stackers. I actually got a more decor based one for Reagan that was handmade in Washington from Beams & Bows. She loves it and so do I! It's so cute.
Plush Dolls
Dolls are not just for girls! Soft plush dolls are a great first birthday gift for both boys and girls. Dolls teach children about so many things that help them develop longterm; they teach empathy, caretaking, and can be helpful to teach about younger siblings. There are so many great dolls out there now, and there are really cool ones out there that aren't as "girly" as a traditional baby doll and can definitely be enjoyed by both boys and girls, such as the superhero above available from The Tot.
Sensory Toys
Sensory toys are great for development in one-year-olds as they explore the world around them. I love all of the options that Guidecraft has. They have blocks in different shapes that involve different senses. They all come in a rainbow of colors, and you have the option of ones that make noise, are filled with colored water, are filled with sand, or even have mirrors on them!
Soft Ball Pit
This awesome soft ball pit is what we are getting Reagan as her first birthday gift. It's small enough to fit in her room and the balls we are ordering are large enough that she can't eat them, even though she will definitely try. There are a ton of options for the colors of both the pit and ball on Amazon. We went to a first birthday party a few months ago and they had a little ball pit that all of the kids there loved so I'm sure this will be a huge hit.
Busy Board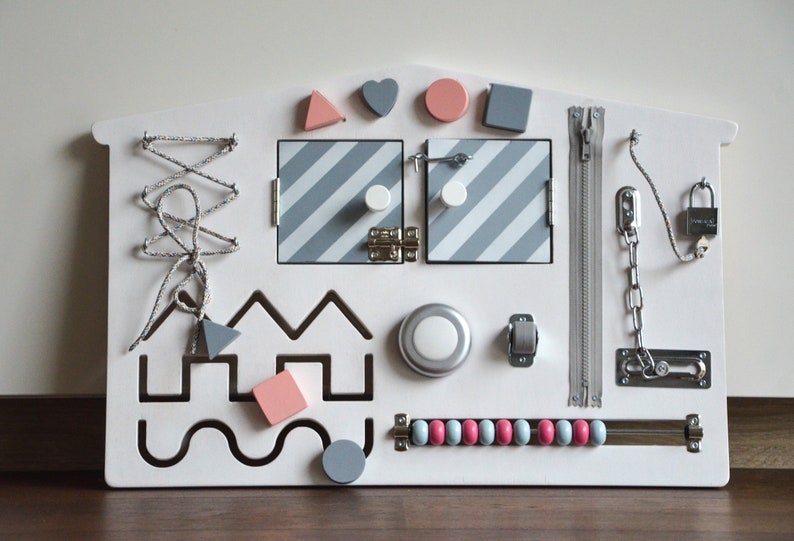 Busy boards are so cool for inquisitive one-year-olds and toddlers. They are pretty easy to make yourself with a few items from Home Depot or Lowe's. You can just grab a thick piece of plywood in your desired size and pick out some fun mechanical items to attach. Some ideas for items to include are different types of locks, gate latches, zippers, light switches, buttons and hooks, snaps, etc. If you aren't into the DIY aspect, there are plenty of Etsy shops you can purchase from. The photo above is from Easy Tiger Busy Boards. They offer a variety of sizes and customizations. There are also a lot of ideas on Pinterest if you still aren't sure what you're looking for in a busy board.
Push Toy
Push toys are great tools to encourage healthy development in infants and young toddlers. They are a great first birthday gift idea since that is around the time most little ones start trying to get their feet under them and master walking. Push toys encourage balance and help young walkers build the confidence and strength they need to walk unassisted. The KidKraft one above is great because it is like a combo of an activity board and a push toy. There are a million options for walkers/push toys like this. I am currently a huge fan of wooden toys so these from Melissa & Doug and Fat Brain Toys would be my picks. However, there are also some great ones with lights and sounds like this one from Vtech. Most are also a really great price!
Push toys were also included in my Holiday Gift Guide for 0-12-month-olds. Check it out for some different options.
Letters to You
I got this book before Peyton's first birthday and I have loved filling it out every year before her birthday. It's so fun to go back and read what I wrote each year and I am looking forward to doing the same for Reagan. It is such a sweet keepsake that you will be able to give your kids once they turn 18, with pages filled full of memories and dreams you have for them! If you get nothing else for
Top Gift Picks
For those of you who don't want to read about each item and why I picked it as a first birthday gift option, here is a quick slider with all of my picks!

I hope this was helpful for parents and families out there who have been stumped when trying to figure out what to get for a first birthday!